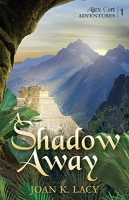 When British archaeologist Andrew Seaton discovers a jewel-encrusted golden statue, he realizes he may have uncovered the key to the lost city of El Dorado. The statue disappears before he can verify his findings, and Andrew must rely on private detective Alex Cort to recover the prized artifact. Th ...
In the Wrong Hands, a thriller full of unexpected twists and intriguing characters, delves into the real-life world of DNA editing, where science and science fiction are about to meet and change the face of medicine forever Two unrelated bodies... A homeland security agent is found dead. Shocking ev ...
"Sixteen years as a nomad…
I used to love it, just the three of us, a team, moving to the next adventure. Now, when my dad changes jobs like some people change underwear, it just gives me a stomachache."
Grace Thompson is used to moving—and losing. She's already lost her mother, her hom ...