Dani Silver is the daughter of a legendary old con artist Leroy Amadeus Logan.

After conning her fiancé out of 1.2 million dollars, she's hoping he'll come after her.

Dani is going to set up the first self-financed long cons. With old members of L ...
Somebody's trying to kill Dani Silver. After a vicious attack, Dani has to recover, then find a way to get even with a pair of crooks. Her one advantage--the think they succeeded. Dani brings in the usual gang--Cincinnati Bob, the forger, Sammy the computer hacker, Patty Kreel and Merle Crookshanks ...
If you like Westlake or Hallinan - You'll love Missing Amanda Revenge is a dish best served quickly Chicago in 1958 is a very dangerous place. When private eye Lou Fleener and his friend Dion Monkton are tricked into helping a Chicago mob boss in his takeover of Mayor Daley's office, it makes the ot ...
The follow up to this years amazing premiere MISSING AMANDA, Lou, Monk and Cassie are hired to find...Nazis. In America in 1960, the idea of Nazis is crazy. But Lou meets one then a whole crowd of them. They have a plan, too; a mysterious plot that Lou and Monk will have to discover to save the life ...
Robin Hood? Not these two. Meet Leroy Logan, a young man who's going to be the best con artist ever and Katherine "Fast Kate" Mulrooney, a young woman with even bigger dreams of her own. Together and apart, for sixty years of living large, Kate and Leroy will embezzle anything, con anyone and love e ...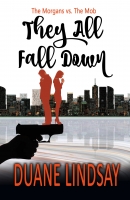 Meet John Paul and CJ Morgan, a typical suburban couple. Nice house, good jobs, however, life is a bit boring--okay, it's a total bore. That all changes when the couple meets a few mob members who are just as bored. Faced with violence and rape, John Paul and his wife fight back. What starts out as ...
The GHOST COACH – as real as you think it is Imagine an old automobile, a car worth millions, lost and forgotten in NY. Legendary con man Leroy Logan doesn't have to imagine—he created the story himself, decades ago. Now he's ready to cash in. With Dani Silver, the grifter's daughter, Leroy's got a ...
YOU'VE NEVER MET ANYONE LIKE DANI SILVER – AKA THE GRIFTER'S DAUGHTER In four novels of increasing danger, Dani's out to become the greatest living con artist and prove that you can do well AND do good, by cheating people who really—really—deserve it. These four books feature romance, humor and wild ...