Once again, Al Quinn's wish to lead a quiet life as a retired sheriff's department detective gets interrupted. This time, a female con artist has ripped off a charity drive his brother, Maury, and his sister-in-law, Bonnie, are heading.

Sheriff Clayton also wants a favor. He asks Al to lo ...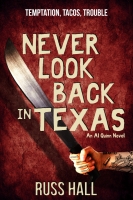 When Al agrees to help Fergie find the missing son of one of their long-ago high school classmates, they head off to a ranch in the valley, where some wide open spaces still remain in Southeast Texas. He is okay with following Fergie's lead in the case, for a change, and even with riding horses. But ...