The underworld writhes. Terror unleashed. Souls enslaved. The Spirit Shields with memories returned are plunged into a conflict older than mankind. The pending battle pits family against spirit and flesh. The godlings face off for ultimate control of the souls of the dead, each with their own agenda ...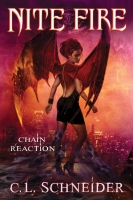 If anyone can tell the difference between monsters and humans, it's Dahlia Nite. For nearly a century, she's hunted one to protect the other; safeguarding humanity from the creatures that slip through the torn veil between the worlds—creatures like her. But the lines are blurring. As people begin mu ...
Eva and Zoe continue their journey to Larissa, Greece where they first met during the German Occupation of Greece in World War II. It's now 1950 and the journey back has revealed more than they anticipated. Eva not only has to deal with her wartime memories in the place that despised her and almost ...