Havana, 1958. Magdalena Fuentes is eighteen years old and she has the world at her feet. The city has become a magnet for the Hollywood stars and the mobsters who flock to Havana to lie by the casino swimming pools and listen to the boleristas in the nightclubs, like her father's. She has her future ...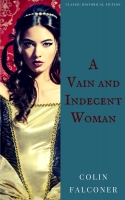 ONE PRINCESS. TWO HUSBANDS. BY ORDER OF THE KING. A princess falls in love with a handsome knight; the stuff of fairy tales, but not very remarkable, even in an age where love was hardly a prerequisite for marriage. It is the princess, Joan of Kent, who is remarkable. Forbidden by the king to marry, ...
"Nick Davis first saw Daniela Simonici in the American Bar of the Athenee Palace Hotel in Bucharest in June of 1940. He couldn't take his eyes off her. The city was full of beautiful women, penniless countesses and fox-furred demi-mondaines looking to be rescued, and until that moment he had spared ...