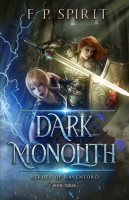 A cult of black mages. A secret of terrifying power. A desperate race to find it before they do.

"They'll be able to make… golems that haven't been seen… since the Thrall Masters walked the earth…" Tevlar's corpse warned.

A hundred and fifty years have passed since the ...
Gwynn had bested the greatest bards of Balahar and was on her own, free to follow the road into the green. That is until she heard the exhausted hoofbeats of the warhorse bearing its dying rider into her camp. The dazzling realm of the Fae Royal Court of Heralith awaits them if only she can muster h ...
Orphaned as an infant, Croft spent his early years in the harsh confines of the Abbey, dreaming of befriending a dragon. When the day finally came, an accident leaves him utterly changed and bonded to a beast named Rueloo. Facing prejudice and fear, Croft builds a quiet life in the nest among his dr ...
"Curious, is it not? How we all imagine ourselves to be the hero of our own story." Titans wage war over the Creation Stones, seeking the final hidden Stone of Matter, revealing glimpses of the Greater War. Ammon walks through dreams, witnessing the powers of light and dark. He realizes who are his ...
An arch-mage can handle almost anything. Unless he's cursed, lost his job and facing an unknown enemy. The Gallantean Empire relies increasingly upon magical technology which cleans sewers, runs trams and much more. Within the capital city of Cal Rindon, magic is pervasive, but not necessarily used ...
It's been 15 years since the bombs fell. Those who survive scrape by in constant fear of famine, murderous marauders, and worse: the raknoth. No one knows what they are or where they came from. Only that they destroyed the world. And now they rule what's left. Jarek Slater never lost sleep over the ...