Stabbed. Burned by a dragon. Abandoned for the windrocs to pick over. The traitor Ra'aba tried to silence Hualiama forever. But he reckoned without the strength of a dragonet's paw, and the courage of a girl who refused to die. Only an extraordinary friendship will save Hualiama's beloved kingdom of ...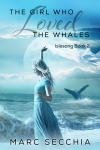 On trial for her life, the Girl who Sang with Whales thought life could not deal her any worse surprises. Little did she know the despicable plans of her enemies would drag her through the Isle of darkness to a new, unimaginable future. Salty adventure for those with a love of pirates, dragons and h ...

Chained to a rock and tossed off a cliff by her boyfriend, Aranya is executed for high treason against the Sylakian Empire. Falling a league into the deadly Cloudlands is not a fate she ever envisaged. But what if she did not die? What if she could spread her wings and fly? Long ago, Dragons ruled t ...