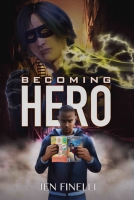 Skye's a comic book superhero with a gun in his hand and a gripe against his author. Every girl Skye's ever dated is either dead or trying to take over the world, and in the series finale, Skye's best friend kills him. 

Or so he thinks. The weapon meant to disintegrate Skye lands him in his author' ...
WHAT IS THE SUPERHERO MEGA ANTHOLOGY? It is many things, but among them, it is:
-Over 500 pages of independent superhero comics and prose!
-Over $600 of giveaways, including a critique of YOUR work, posters, clothes, music, and of course, tons and tons of books!
-A collection of ...