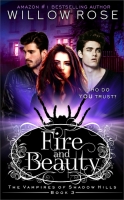 It's a neighborhood like any other. Except it is not. Under the surface lurks so many secrets that the teenagers of Shadow Hills fear for their lives. Jazmine knows her friends' parents are strange, supernatural beings, but what about hers? Who can she trust? Fire and Beauty is the third book in a f ...
You know what has come to be but do you know where it began? Before Nisha. Before Adrianna. Before the countries even had names, there were the Star Cities. Ruled each in their own way… all answering to one. Primitiva was born the second daughter of the royal house of Lunaista. She was born for grea ...
Like the ocean, life is a beautiful force. One that can tear you limb from limb or lavish you in perfect moments.

Michelle Hathaway has it all: a view of the Eiffel Tower from her loft in Paris, a successful career as a fashion photographer, ownership in an up-and-coming art gallery, and ...