Robin Hood? Not these two. Meet Leroy Logan, a young man who's going to be the best con artist ever and Katherine "Fast Kate" Mulrooney, a young woman with even bigger dreams of her own. Together and apart, for sixty years of living large, Kate and Leroy will embezzle anything, con anyone and love e ...
GET A FREE PREQUEL TO THIS SERIES WHEN YOU SIGN UP FOR NANCY'S NEWSLETTER (LINK INSIDE!) Nora Newberry has been working to make her dreams come true and finally, after 10 years, it's time! She's moved back to her hometown of Milburn, Wyoming, and, together with her lifelong best friend, Raquel Madde ...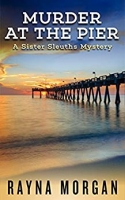 If curiosity killed the cat, what will it do to the Sister Sleuths? Sister sleuths Lea and Maddy are called into action when Lea's adventurous canines discover a dead body under the pier in their beachside community. There's no shortage of suspects since the victim was despised by several people in ...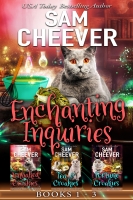 3 full-length novels of paranormal cozy adventure fun! This is no boring librarian shushing people from behind a desk. This librarian corrals rogue magic. But more importantly, she has a frog and a cat, and she's not afraid to use them!
Meet Chloe: she has a house, a best friend, and absolutely no idea how to say "no." So when her elderly neighbor asks her to surrender a little dog named Theo to the animal shelter, of course Chloe agrees. And when Theo pulls out his big puppy dog eyes, Chloe reluctantly gains a dog. And that's when ...

Based on near-real events! Known to the neighborhood as Grandma Jan, Janice Kustodia has a routine and keeps to it. Up at 6 a.m., a pot of Jewel Extra Bold coffee and then out the door to bring the garbage cans up from the curb, sweep the sidewalks and walk South Linden Avenue to make sure all is a ...
ezabelle Jingle and her neighbors in the Penderghast section of Brilliant, Minnesota, have a mystery on their hands.Someone is stealing sections of hardwood floors in their homes and the thefts may be connected to a long-hidden treasure left by the founders of Brilliant. Not only that, there's a dea ...
*****Voted one of 50 self-published books worth reading, 2016*****

USA Today Bestselling author, Anna Celeste Burke, brings you murder, mayhem, and a second chance at love! Mystery, food, and a Siamese cat named after Miles Davis, too.

It's not easy doing Public Rel ...
When DeeDee and her boyfriend, Jake, head to Whistler, British Columbia, to see her sister, Roz, and enjoy a little down time from her new catering business, Deelish, and his job as a private investigator, the last thing they expect is to become involved in a murder. What makes it even worse is the ...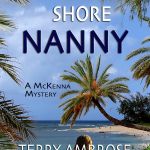 Amateur sleuth McKenna's latest client is ten-year-old surfing sensation Kai Palakiko. Kai is precocious, fearless, and determined to prove her nanny is not a murderer. Against his better judgement, McKenna agrees to help but soon finds the woman he's trying to save is in the middle of a government ...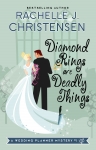 Adrielle Pyper knows how to plan a wedding, and she's especially good at pleasing bridezillas. But when her biggest client and best friend is murdered just three days before the wedding, Adri's world falls apart. She moves to the resort town of Sun Valley, Idaho, and starts from scratch. Thanks to A ...

There's less than a month to go before Georgie Shaw and Detective Jack Wheeler's Christmas wedding. With Georgie's boss "Mad Max" Marley involved, the whole affair becomes much more complicated. Determined to keep the wedding plans from being derailed, Georgie pays Max ...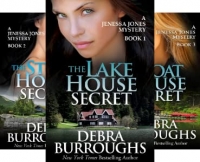 From Book 1: From New York Times bestselling author Debra Burroughs comes THE LAKE HOUSE SECRET...
"I loved this book!! I can't wait to read the next one." ~ Natalie Hardie
"Very engaging boo ...

A mysterious woman appears on the doorstep of Great Aunt Sybil's Attic in the middle of the night. Owner Anne Hillstrom lets her in, only to have the woman die in her arms. With no final words, and only an old lantern clutched to her chest, the dead woman provides Anne and her partner CC precious fe ...
Amazon #1 Bestselling Cozy Mystery! Lizzie Hart is back--snooping, lying, and chick-fighting to uncover the truth in this sequel to bestselling author Caroline Fardig's It's Just a Little Crush. That Old Black Magic...will it put Lizzie under its spell? Lizzie Hart hoped her first day back ...
Bree-Ann Carver works in a satellite office, in Idaho. Her job as an intern for the New York Times is to write a blog about fictional murders. But her very first subscriber criticizes her efforts and then aggressively moves to take over her blog via his unsolicited input into her work. She knows he ...
Murder. Mayhem. A madcap lady vicar. In the village of Upton St. Mary, gossip arises as word spreads that a body has been found in the woods. Once the investigation begins, the forensic team finds that it has been there for years. But the question remains: who was buried there all those years ago ...
A heartfelt and hilarious mystery. A dead body swan-dives into the pool at a wedding, bringing gossip about disgraced paralegal and former rodeo queen Emily to a halt. Enter Jack, a secretive attorney and sexy mix of cowboy and Indian, and a job offer. Emily refuses the man and the job, until she le ...

Date night for Georgie Shaw and handsome detective Jack Wheeler goes terribly wrong. A botched heist at Marvelous Marley World has everyone scrambling as trigger-happy bad guys head for the Halloween celebration in Arcadia Park. With Hullabaloo-Boo in full swing, figuring out whodunit could take a l ...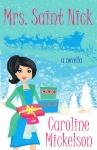 When Santa offers efficiency expert Holly Jamison a job at the North Pole, she's delighted to accept. It's not that she loves the Christmas holidays. Far from it. Everywhere she looks, from the piles of presents to the thousands of cheery elves hard at work, Holly sees ways to improve th ...
Who knew a New Year's trip to Budapest could be so deadly? The tour must go on – even with a killer in their midst… Recent divorcée Lana Hansen needs a break. Her luck has run sour for going on a decade, ever since she got fired from her favorite job as an investigative reporter. When her fresh star ...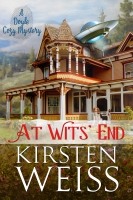 A Doyle Cozy Mystery, by Kirsten Weiss When Susan Witsend inherits her grandmother's UFO-themed B&B, she's ready to put her organizational skills to the test. She knows she can make the B&B work, even if there is a faux-UFO in the roof. After all, what's not to love about a Victorian nestled ...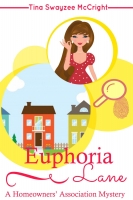 How far will one person go to stop the HOA? Andi Stevenson knew her life would never be same after purchasing her new condo on Euphoria Lane. On day one, she finds the body of the Homeowners' Association president. Day two, she discovers the property manager is her former fiancé. Day three, the new ...
"My career in the San Francisco PD ended the day I arrested my husband." Maggie Doyle gives her cheating ex and crumbling career in the San Francisco PD the proverbial middle finger, and moves to the Wild West…of Ireland. Lured by her aunt's promise of a restful Irish vacation, Maggie agrees t ...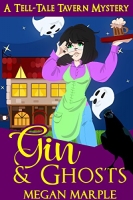 A psychic raven, meddling ghosts, and a few odd locals serve up trouble on the island of Capers Cove! Bartender Edie Allan might be a little odd, she can talk to ghosts and her pet raven, Poe, but she turns sleuth when a body shows up in the sand, and she discovers the cute new tavern owner might ju ...

From seven time Amazon All Star comes a new cozy mystery series! What could go wrong at a world class fishing lodge in the charming town of San Martin de Los Andes, Argentina, home of gauchos, leather, and chocolate? When Ray Martin, the wealthy owner of Moving Graphics, is murdered on a cor ...
Single mom Betsy Holmes gets more drama than she bargained for when her mother Claudia drops a bomb that rocks her to the core: Betsy's father wasn't alone the night of his fatal car crash three years ago. Determined to prove Claudia wrong, Betsy investigates—and in the process she uncovers some dis ...