Thirty-four year old cosmetics saleswoman Chloe Cook is busy searching for a love that lasts in the tourist town of Cape Cod when a murder strikes. The victim is Marty Diamond, a mattress mogul known for his high pressure sales tactics and schlocky TV ads. Unfortunately, the local police det ...
Aggie Mundeen, who writes the column "Stay Young with Aggie," plans to rendezvous with SAPD Detective Sam Vanderhoven, the man she loves, at a hotel on the San Antonio River Walk…a vacation from crime and a reset for their tumultuous relationship. In the midst of River Cit ...
Hungry vamps make the best sleuths! Or do they? Mallory is about to find out, because she's got a client relying on her to solve an inconvenient murder, and her stomach won't stop grumbling. Thankfully, she's got a team of both magical and human friends to help her solve the murder...and slip her sn ...
Piper was hoping to meet her favorite author before he died, but she was a day late. The famous man's luck ran out right before Piper showed up at his house for a casual interview. Piper finds herself at the heart of the literary world's biggest scandal yet. When a budding romance with a murder susp ...
From USA Today bestselling author A. Gardner... When Poppy Peters takes an internship in Paris working for a top pastry chef, she realizes that bakery life isn't all cupcakes and frosting. The sous pastry chef dislikes foreigners, her mentor only speaks French, and to top that all off she finds the ...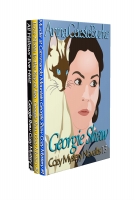 USA Today bestselling author brings you fun, food, cats, and mystery. A second chance romance, too, for Georgie Shaw and Detective Jack Wheeler who meet in an unusual way! Read the first three novellas in the Georgie Shaw Cozy Mystery Series. Here's a message for you from Georgie: "Welcome to my wor ...
Brand new cozy mystery series from the creator of Pelican Cove ** Enraged Baseball Star Murders College Sweetheart** The past two years have been tough for Anna Butler. Widowed at fifty five and diagnosed with a dreaded illness soon after, she is struggling to keep it all together. Then the license ...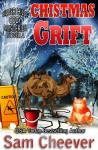 A corpse, a cantankerous camel, an entertaining array of suspects, and a yule tide of problems along the way…it must be a Flo and Agnes Christmas! Who would have guessed Agnes would rub Penelope the cranky camel the wrong way? Or that Flo would find herself ankle deep in camel dung while fend ...
PLEASE NOTE: Only the first 10 requesters will receive free books. BUT: Amazon has the 4-book AGGIE MUNDEEN series on sale for $8.97 at http://tinyurl.com/AggieMundeen. In DANG NEAR DEAD, Aggie, Detective Sam (traveling incognito) and friend Meredith vacation at a dude ranch, a prickly destinatio ...
As soon as Poppy Parker turns 21, the star of a popular TV show about witch detectives discovers she has supernatural powers off the set as well as on. When the show is canceled, she returns home to figure out how to harness the magic brewing inside her. Freaked out by these recent paranormal gifts, ...
From Book 1: A KISS TO KILL FOR…
In Colleen Mooneys funny, romantic, delightfully meandering cozy mystery, you gon have a authentic Noo Awlins experience, dawlin! And a wild ride into the bargain.

Brandy Alexanders the real deal--yes, thats her real name and shes not even a stri ...

Mama Gets Trashed is the fifth book in Deborah Sharp's funny, Southern-fried Mace Bauer Mystery series. Set in the fictional town of Himmarshee, Fla., TRASHED continues the adventures of the much-married Mama, and the three grown daughters she drives crazy. When a tipsy Mama tosses out her latest we ...