Book #3 in the Kiki Lowenstein Mystery Series.



Author:Joanna Campbell Slan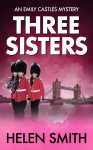 Three Sisters introduces twenty-six-year-old amateur sleuth Emily Castles in this entertaining new mystery series from best selling British author Helen Smith. Emily receives an invitation to a party in a large house at the end of her street, hosted by a mysterious troupe of circus performers. She a ...

There's less than a month to go before Georgie Shaw and Detective Jack Wheeler's Christmas wedding. With Georgie's boss "Mad Max" Marley involved, the whole affair becomes much more complicated. Determined to keep the wedding plans from being derailed, Georgie pays Max ...