It's murder at the dog show! When amateur sleuth Clarissa Hayes and her trusty Saint Bernard, Paw, enter a dog show, they expect to find dogs, blue ribbons, and trophies. Not dead bodies. Clarissa's boyfriend is tracking a suspect in the death of a dog fancier. It's up to Clarissa and Paw to provide ...
"Artist and accidental detective Cherry Tucker goes back to high school and finds plenty of trouble and skeletons…Reinhart's charming, s ...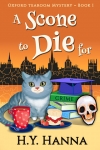 "Scones, a tea shop in England, a kitty & a murder - yes, please!"
When an American tourist is murdered with a scone in Gemma's quaint English tearoom, she suddenly finds herself apron-deep in a mystery involving sinister secrets from Oxford's past. Helped by four nosy 'Old B ...
You are cordially invited to the destination wedding of Wendy Darlin Tomb Raider and Doctor Roger Jolley, world-renowned archaeologist to be held at the Van Helsing Resort and Spa in Loutish, Vulgaria. In lieu of wedding gifts please bring whole garlic buds. The ceremony will begin once the forty bl ...

Izzy Greene, a widow of a certain age, joins a writing group in an attempt to actually finish one of her stories. She gets more than she bargained for, however, when her nemesis, sexy blonde bombshell, Sondra Sockerman disappears under suspicious circumstances. Izzy soon realizes she has a natural d ...
Flori-duh! There's a reason why so many crazy things happen in the Sunshine State. But Val and her wacko friends can only take credit for half of them.... St. Pete Beach attracts weirdos like mosquitoes to a bug zapper. When Val Fremden flies back home divorced and broke, she's got nothing left to g ...
Granny may be retired as Fuchsia, Minnesota's one-woman undercover sleuth for the Fuchsia Police Department, but that doesn't mean she still doesn't need a trusty weapon. Her weapon of choice? A pink snow shovel. When Granny runs over a dead body with her snowmobile, she unwittingl ...
Erin Price moves to Eagle Falls, a place where everyone knows everyone as well as everyone else's business, taking over the store left to her by her aunt to start up a gluten-free bakery. The grand opening is marred by just one thing, the death of her business rival, Angela Plaint. It appears that A ...
A teenager's romantic fantasies lead to tragedy and her butcher walks away. The young girl's bones, hidden for decades in the deep woods, cry out for justice. A life cut short, a cowardly killer and a middle-aged flowerchild are stirred together into a tasty stew of wild mushrooms, herbs, vanity a ...