Granny may be retired as Fuchsia, Minnesota's one-woman undercover sleuth for the Fuchsia Police Department, but that doesn't mean she still doesn't need a trusty weapon. Her weapon of choice? A pink snow shovel. When Granny runs over a dead body with her snowmobile, she unwittingl ...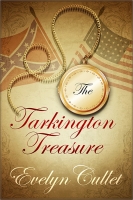 "In the world of logic, it's always our assumptions that lead us astray." A spooky old house, rumors of a hidden Civil War treasure, a neighbor's murder, and an ex-fiance falling unconscious at her feet---Charlotte Ross has her hands full when she's invited to stay at her friend, Jane Marshall's hom ...
Want to get away from the daily grind? So did Ollie! Middle aged Professor Ollie Stratford's been hounded by a psycho realtor, outrun by a bunch of grandma's, taken bad advice from sock puppets, stuck in a brimming toilet bowl, and almost run out of college by a drunken professor. How is that for he ...

Welcome to Enchanted Bay, a picture-perfect small town on the coast of Northern California. Meg Walton comes from a long line of witches. It's a secret her family has been keeping for generations. The Waltons have been living a quiet existence, running the local donut shop in town. All that changes ...
Semi-retired journalist Natalie Seachrist has had visions all of her life. But when her twin Nathan confirms that the body she saw in her vision draped over a vintage Mustang was his granddaughter, her world changes forever. During subsequent research for friend and investigator Keoni Hewitt, Natali ...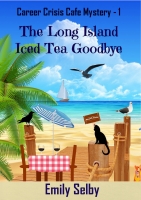 Heather Hampton, a middle-aged, freshly divorced fashion journalist from Long Island, arrives in Dolphin Cove, New Zealand to start a new life as a beach café owner and a cocktail maker extraordinaire, not to battle a grumpy live-in chef-cum-baker, rescue feral kittens and find bodies and skeletons ...

What could go wrong at The Big T Lodge, the most expensive and prestigious hunting club in the United States? Well, murder for starters! When Roger Langley tells his wife, Liz, that they're leaving for Texas in three days for an unexpected hunting trip at the club, neither of them has a clue tha ...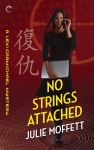 Oops, I did it again… Leave it to me, Lexi Carmichael, to become a target for an elite organization of cyber criminals simply by being in the wrong place at the right time. As if I weren't already freaking out about planning my best friend's bachelorette party, I now have to keep my eyes peel ...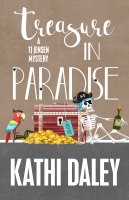 Tj Jensen and her family head to Turtle Cove Resort for summer vacation, but their plans for rest and relaxation are thwarted when they find a dead treasure hunter in the attic of the resort's main house. Initially vowing not to get involved, Tj quickly changes her tune when the Gull Island deputy o ...
GET A FREE PREQUEL TO THIS SERIES WHEN YOU SIGN UP FOR NANCY'S NEWSLETTER (LINK INSIDE!) Nora Newberry has been working to make her dreams come true and finally, after 10 years, it's time! She's moved back to her hometown of Milburn, Wyoming, and, together with her lifelong best friend, Raquel Madde ...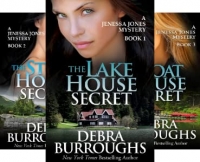 From Book 1: From New York Times bestselling author Debra Burroughs comes THE LAKE HOUSE SECRET...
"I loved this book!! I can't wait to read the next one." ~ Natalie Hardie
"Very engaging boo ...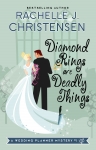 Adrielle Pyper knows how to plan a wedding, and she's especially good at pleasing bridezillas. But when her biggest client and best friend is murdered just three days before the wedding, Adri's world falls apart. She moves to the resort town of Sun Valley, Idaho, and starts from scratch. Thanks to A ...
Fireworks and spectacular performances were to be expected at the Drama Divas Convention over the Fourth of July weekend, being framed for murder was not. Best friends Francie and June thought attending a three-day acting seminar at Devil's Island Luxury Resort and Amusement Park would provide the p ...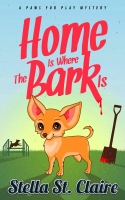 All Willow Wells wanted was a fresh start. After a divorce that left her a dog trainer with no dogs to train, inheriting her Aunt's property (complete with a downtrodden dog gym) seemed like the answer to her prayers. That is until the first day of excavation uncovers a dead local real estate mogul, ...

A Mystery for Ghost Hunters! When Betsy's Aunt Maggie wants to drag her along on a ghost hunting excursion at the local abandoned tuberculosis hospital, she isn't sure if she quite believes in ghosts. When she comes upon a fresh spirit in the form of a body, she starts to rethink about what really ...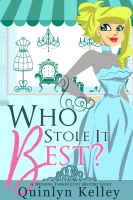 Who Stole It Best? A Wedding Themed Cozy Mystery Story Her big day is fast approaching but a bride can't walk down the aisle without a dress. Who stole it, and why? Find out in this cozy mystery story by debut cozy mystery author Quinlyn Kelley.
A dead wolf man. A small town in shock. Who is the wolf man and where did he come from? First book in the Lily Gayle Lambert Mystery series by USA Today and Wall Street Journal Bestselling author, Susan Boles. "...a charming southern cozy chocked full of engaging characters, laugh out loud humor, an ...
Mike, the sheriff of Beaver County, Oregon and his wife Kelly, the owner of Kelly's Koffee Shop, have just returned from a fly fishing trip to Cuba. On the drive home from the airport Mike gets a call informing him that the owner of Doggie Love Kennel, where they had boarded their dogs when ...