Dead less than twenty-four hours, with a job that doesn't pay, a fashion disaster for a uniform and more afterlife rules than she can shake a stick at, Bridget Sway thinks it's as bad as it can get. And then she finds a dead ghost stuffed in her locker. Since the police are desperate to ...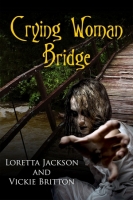 While returning from Professor Dawson's lecture on haunted places, the last thing Sheriff Jeff McQuede and Dawson expect to encounter is a terrified woman clinging to the railing of Mirabella's Bridge, crying for her lost baby. It looks as if Rae Harris has thrown the infant over the bridge in a fit ...
Vickie Britton & Loretta Jackson

Izzy Greene, a widow of a certain age, joins a writing group in an attempt to actually finish one of her stories. She gets more than she bargained for, however, when her nemesis, sexy blonde bombshell, Sondra Sockerman disappears under suspicious circumstances. Izzy soon realizes she has a natural d ...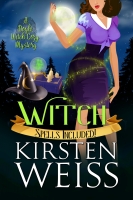 The faerie curse that plagued the town of Doyle is over. Or is it? Witch Jayce Bonheim has finally got her life back on track. Her coffeeshop's been rebuilt. She's got the perfect boyfriend. And the murderous magic that imperiled Jayce and her witchy sisters has been defeated. But when a customer di ...

Another murder in small town Cold Creek has tensions rising. Clive Johnson, the groundskeeper at Cold Creek College, is a convenient scapegoat for a police chief. Convinced Chief Pfeiffe has it all wrong, Sheridan Hendley sets out to help prove Clive's innocence. Not everyone is pleased by her enthu ...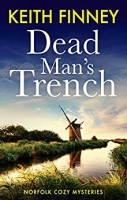 DISCOVER THIS SIZZLING SERIES OF COZY MYSTERIES SET IN THE SWEEPING LANDSCAPE OF NORFOLK. A man lies dead, deep in an excavation trench, an angry villager's signature on a damming piece of evidence, and a race against time to discover the truth. When the corpse of a hated local man is discovered, sm ...
Welcome to Desert Palms, a cozy Arizona tourist town set up against the mountains. Deanna Devlin is a thirty-two year old reporter who dreams of tackling hard-nosed stories, but is stuck writing puff pieces for the local paper. When a murder strikes Desert Palms, Deanna suddenly gets her chan ...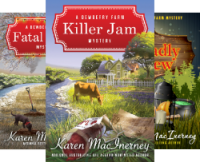 From Book 1:When Houston reporter Lucy Resnick cashes in her retirement to buy her grandmothers farm in Buttercup, Texas, shes looking forward to a simple life as a homesteader. But Lucy has barely finished putting up her first batch of Killer Dewberry Jam when an oil exploration truck rolls up to t ...
A witchin' new series from USA Today bestselling author A. GARDNER!

Ember Greene, savvy businesswoman and troubled psychic, returns to her family's bakery in southern Alabama after her sister mysteriously disappears.

The magical folks of Misty Key have always lived in har ...
"A culinary cozy mystery with a tasteful blend of romance suspense by top selling international mystery thriller and suspense author C T Mitchell delivered in a fast paced, impossible to put down three short read box set" ...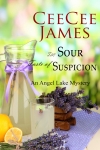 The only thing worse than living in a haunted house is somebody trying to make you the next ghost. And a dollhouse is the only clue.

When Elise takes a position at spooky old Montgomery Manor as companion to her friend Lavina's great aunt, she's expecting an easy job for the h ...
The Pineapple Port crew takes a road trip to the Outer Banks, North Carolina, only to discover "body bits" in their vacation home. The nursing home next door is run by some suspicious characters and one of their residents is missing.
Hmm...
She'll have to solve this crime one spell at a time.
...
This is a modern story that began in 1998 and ends in 2012. It is based on true events that take place in a small rural town, not far from the ocean, in Northern California. The main characters are the chief of police, his sergeant, who happens to be his wife, and the wife's for ...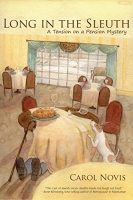 Long in the Sleuth First in the "Tension on a Pension" cozy mystery series "Long in the Sleuth" combines humor, romance and suspense with a unique angle – a quirky team of seniors trying to adjust to life in a retirement home, while people are dropping dead all around them. Who killed Sam Levin with ...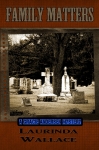 Think your family's dysfunctional? Meet Gracie Andersen's and the peaceful farming community of Deer Creek. Gracie has her hands full--a new business and trying to get her life on track after the loss of her husband and unborn child. When an odd gift from her troubled uncle thrusts her into an inves ...

There's less than a month to go before Georgie Shaw and Detective Jack Wheeler's Christmas wedding. With Georgie's boss "Mad Max" Marley involved, the whole affair becomes much more complicated. Determined to keep the wedding plans from being derailed, Georgie pays Max ...
Alexandra Kustodia searches for rare gems in the most remote areas of the world. Descended from a long line of Russian jewelers, her family's fate is tied into the legacy of the imperial family. Secrets from the past haunt her dreams as a killer hunts her. With her beloved borzoi, Hunter, by her s ...
If evil comes knocking don't sell it a death curse. Nicole Scott possesses a unique gift. She can see and hear ghosts. When a body turns up at her Aunt Patsy's doll shop, Nicole recognizes the victim. The woman is - or was a client of Nicole's estate liquidating company. Early evidence points to a d ...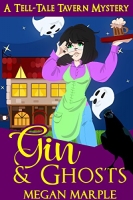 A psychic raven, meddling ghosts, and a few odd locals serve up trouble on the island of Capers Cove! Bartender Edie Allan might be a little odd, she can talk to ghosts and her pet raven, Poe, but she turns sleuth when a body shows up in the sand, and she discovers the cute new tavern owner might ju ...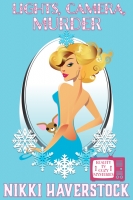 Anything can happen on a reality show, though finding a body on set—and live on air—is new. Melissa McBallister is young, rich, and beautiful but frustrated. She wants nothing more than to be a famous author like her mother. When the opportunity to be on a new reality TV show comes her way, she grab ...