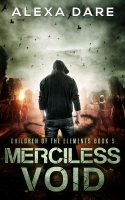 When nature refuses to be controlled, can mankind endure?

Beyond wind, earth, fire, and water...
Author Alexa Dare presents a thrilling world of the unknown in the Fifth and Final Book of the Children of the Elements series where a repentant teenage computer te ...
It was happening again, just like before: in the middle of a downpour, just like the previous victims. As Detective Maria Sanchez drove toward the latest crime scene, she felt an unfamiliar feeling in her stomach; a feeling she wasn't used to feeling, a feeling she would never admit to anyone. It wa ...
A collection of six folklore retellings that will twist your mind and claim your heart. SHIMMER: A heartbroken boy rescues a mermaid... but is it too late to save her? BETWEEN is about a girl, a genie, and a ton of bad decisions. SUNSET MOON: Eloise doesn't believe in Native American magic--until th ...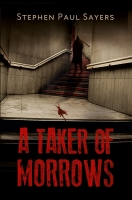 RG Granville has his whole life in front of him...but only twenty-four hours to live it.

Beyond life's boundaries, an enduring battle between good and evil determines the fate of earthly souls. Here, 'caretakers' guard and protect against the evil and vengeful 'jumpers' who slip back and ...
From Book 1: Have you ever made a mistake that keeps coming back to haunt you?On the run from her ex-boyfriends powerful criminal family, Sara Jones hides in Billings, Montana. But when people around her start dying from poisonous spider bites after she receives a mysterious package containing ...
A selfish young woman puts her life in danger as well as the people she loves for
Hundreds of years ago, the Great Death desolated the planet, killing most humans and animals. The world that was reborn is filled with human-animal hybrids. The descendants of humans rule over the others using segregation and subjugation to enslaved and command. Trinity, a sixteen year old P ...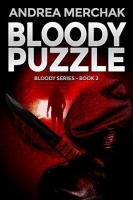 From the author of 'CROWLEY'S CULT' (a New Apple Book Awards OFFICIAL SELECTION!), and 'BLOODY LEGENDS'. Daniel is back, and he's more evil than EVER! Oakville is in another panic! The most hideous serial killer the city has ever known has returned with a new theme. The murders are more violent. The ...
With their shelter destroyed and their sense of security shattered, Vivian, Axl and the group set off in search of a safe place. But the group's morale is at an all-time low, and they now know it's not just the dead they have to fear. Weeks of wandering brings sickness, death and loss to the survivo ...
MISERY meets CABIN IN THE WOODS and FIFTY SHADES in an erotic horror thriller that'll blow your socks off! Gerald Grimes, Failed Writer, needs a miracle to salvage his writing career and save him from becoming the next Assistant Night Manager at the local CrapMart. 'Canny Danny' Jackson is a fugitiv ...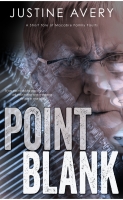 If you can't stand the pressure... ask your mother to stop pointing the gun at your head. Steven is a writer, by all accounts of self-proclamation. But no artist can be expected to work under serious pressure, especially not when the pressure consists of his own mother indenting his tender skull wit ...
In the strange land of World Circus, Mary and Darrin discover they aren't in their safe, dull life any longer, but have taken the identity of one of the cards from the Circus Tarot. After a terrorizing encounter, resulting in death, they learn the bizarre rules of the land, and discover that the den ...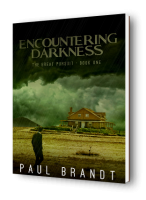 Do you enjoy Christian fantasy fiction? "Encountering Darkness," a christian fantasy and adventure novel, will take you on a thought provoking journey. In this nightmarish tale, Pete and Amy try to discover who or what to follow. As Pete and Amy hear many voices declaring "truth", which is the right ...
Prelude is a prequel to Crescent City (An Alec Winters Series, Book 2). Get a behind-the-scenes look at sixteen-year-old Alec Winters, a New Orleans teen-jock, before his strange, supernatural transformation. Discover little-known facts about the cultural differences of the deep-south and a good-ole ...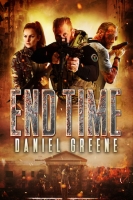 Protests in front of an embassy aren't what they seem... In the dark primal jungles of the Congo River basin, something is ravaging the local population. When protests turn violent in front of the US Embassy Kinshasa, only the foreign policy experts paid attention. Civil war erupts and people rip ea ...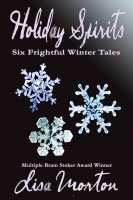 Gather around the holiday hearth and share these six chilling tales by multiple Bram Stoker Award-winning author Lisa Morton. In "The Christmas Spirit", a couple taking a holiday break in the countryside find their secluded cottage is anything but idyllic. "Daddy's Girl" pits a desperate mother agai ...
Bizarre events won't allow Susie to return to World Circus, and she discovers at the same time, she is no longer Page of Buckets, leaving her with the question of "who am I?" Each time she closes her eyes to sleep, she learns more and more of how the strange world and its inhabitants were created. A ...
When corporate spy Colin O'Neill receives a personal invitation from his target's CEO to join an elite high stakes game, he fears his cover blown. But Katarina Habsburg's interest in him is superseded by deadly intrigues with her partners and she's forced to focus on her own survival. With his time ...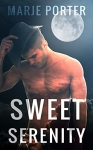 Once in a lifetime comes the chance to know someone beyond love and desire. But can a soul reach from eternity and reunite with a forbidden and cheated love?
In 1887, during a full harvest moon, a baby is born, and two lovers die at the same moment. Over a hundred years after her death, Rebecca ...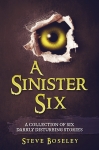 'A Sinister Six' is a collection of darkly disturbing stories, where the ordinary and mundane become extraordinary and fantastic.

Come along, as we journey to the edges of reality and glimpse what lies just beyond our reach. Discover that nothing is quite what it seems, and ex ...
It's a dirty job - but someone's got to do it. Robert Stephenson burns zombies for a living. It's a profession that pays the bills and plays tricks on the mind. Still, his life is routine until his four-year-old son becomes stranded in a quarantined zone, teeming with flesh-eating rotters. Does Rob ...
WHAT IF ALL THAT STOOD BETWEEN YOU AND HELL WAS A MATCH?

Emily and Bobby Jessup stand accused of first-degree arson. Their small coal-mining community of Karlgarin has branded them criminals and sociopaths. But something led Bobby and Emily to leave their two young children wi ...
Some see Alec Winters as a breathtaking, amazing angel, a savior. Others see him as a mind-blowing nightmare, the most terrifying demon their minds could ever conjure. Alec Winters roams the gritty streets of New Orleans as hero and protector of the innocent while he annihilates wicked evil-doers in ...