She's a journalist on a mission. He's in her heart… and in her way. Will they have to choose between justice and love? As the older sibling to two beautiful twin sisters, Nadine Laidlaw is used to being overlooked. But she refuses to let her late father's employer overlook his suspicious death. She ...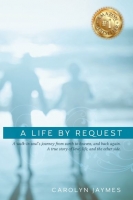 A Life by Request is an extraordinary true story about the power of love and its ability to transcend any barrier, including the boundary between heaven and earth. It reads like a romance novel: neither the deepest valley nor the highest mountain can keep Carolyn and Jay apart—not even death. But no ...
She longs to uncover her family's hidden past. He wants nothing more than to keep his shameful secrets locked away forever. They didn't expect to fall in love... especially not with each other.

Lauren Dalton's world shattered the day her father died. Now she's willing to move ...