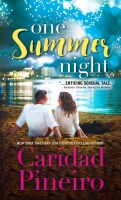 An offer that's impossible to accept… Maggie Sinclair has tried everything to save her family's business, including mortgaging their beloved beach house on the Jersey shore. But now, she's out of options. The Sinclair and Pierce families have been neighbors and enemies for almost thirty years. That ...

What happens when the past threatens the future Miranda and Jason fought for? Miranda thought she finally had it all -- love and a family. But when a rich and successful ex-lover from her past surfaces, Jason's insecurities flare up. Unable to bear watching Miranda give up her dream because of finan ...
People say you can't fall in love in high school, But I did. As soon as I saw it, touched it, heard it, I was in love. And we make beautiful music together. Yeah, my electric guitar and I. When I finally get my chance, my big break, I go all out, proving that I'm born to play, Born to perform, Born ...