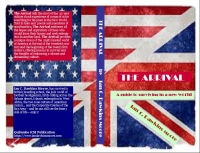 THE ARRIVAL - HOW TO SURVIVE IN AMERICA offers tools and 'the attitude' needed to avoid the many pitfalls of America – a vibrate and seductive land - that has many genuine and productive qualities that allow an ordinary person to live an extraordinary life pursuing their dreams. THE ARRIVAL is a rem ...
Eleanor, a timid orphan, has no clue to her real purpose, but she also has no desire to become a subservient old maid, like the miserable nuns she grew up with. Eleanor believes Edward, whom she loves, will save her from being forced to take vows. She knows Mother Superior has no intention of lettin ...
A fictitious journey of an exceptional female and her adventurous spirit. Allow 'Tessa' to share with you a tormented yet wondrous life of failures and success. Conquer the life of poverty and then be seduced by a life of power. Share the memories and secrets of a fascinating woman. Escape for a tim ...