Molly Brown always faces life with a smile, even when a frightening thug is intent upon killing her. At first, Detective Sean Cushing finds Molly's cheery disposition unnatural, especially when he discovers the seriousness of her injuries. When she asks for police protection, he instead offers her a ...
Davy Hill goes from obscurity to fame by riding the rankest bull alive. Coming from a life of poverty, the young cowboy expects his life to change for the better now that he's a successful professional bull-rider. Yet, with every occurrence of good luck comes an equal dose of bad. He suffers a poten ...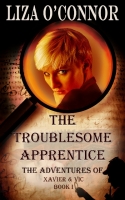 While investigating the death of a friend and client, Maddy Hamilton, Xavier Thorn (reputed to be the greatest sleuth in England) is greatly impressed with Maddy's nephew, Victor, and offers him a job as his secretary. Aware of Xavier's history of firing secretaries, Victor garners a promise that fo ...