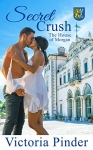 For some, joining the FBI is a long-term goal. For billionaire John Morgan, joining the Bureau is a stepping stone to proving his father is culpable for his sister's death. After his estranged father dies, John is forced to return home and face the ghosts of his past. That proves to be more di ...
Shortly before his death, Gwen's father makes a decision that alters the course of her life. She possesses the queen gene and is promptly sold to King Thor, but before she has a moment to grasp this shocking turn of events, Thor barges in and takes control of her and her life.

War i ...
Victoria Morgan shocks the world when she shows up at her father's funeral. Shocking because for the last five years, everyone believed she was dead. To escape her billionaire father's cruel manipulations; Victoria let everyone believe she was gone forever. Burdened with a broken heart a ...