Anna-Maria and Captain Laurence have a past. A past that she remembers fondly every day. Back then, she naively believed that he would choose her for his very own, but that hadn't happened. Why would the son of a duke marry a lowly tenant farmer's daughter, anyway? Now, years later, Anna-Maria was b ...
Ellie did something she'd never done before. She brought a stranger home. She didn't regret it. He was perfect in every way. She suspected that men she met from here forward wouldn't measure up. But before she could get a few days past it, she got a big surprise. Just her luck. Why couldn't a one-ni ...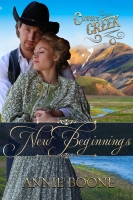 Audrey Norris is worried but determined. Her life has taken a drastic turn. A short year ago, she was a happily married woman with a young daughter and a warm, cozy home. Now she's a widow responsible for her daughter, her mother, and a big fat mortgage she didn't even know about. She can't pay the ...