Veteran cop, DCI David Jones, is tough and uncompromising. His Serious Crime Unit has the best arrest record the Midlands Police Service has ever seen. Jones and his dedicated team work hard to keep it that way. Locksmith turned jewel thief, Sean Freeman, is the best in the UK. He's never been caugh ...
In an action-packed tale of secrets and lies in small town America, Chet Walker is a man forced to make decisions that will affect his future and the life of the woman he loves. Witness to a car crash and in receipt of a cryptic message from a dying man, traveling musician, Chet Walker, reaches the ...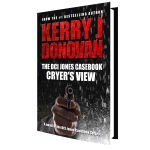 For more than five years police operations in the southeast of England have been failing. Chief Superintendent Knightly, a senior member of the National Crime Agency, suspects that someone is selling police intelligence. When one of his junior officers dies before he can attend clandestine meeting w ...