She's his brother's nanny...and totally off-limits. In an effort to escape her overprotective mother, Cassie moves to Tampa to decide her future and claim her independence. When she lands a job as a live-in nanny to adorable twin infants, she's convinced she's on the right track. Until she meets her ...
Shannon O'Reilly is a teenager with a problem - she can see her ancestors' ghosts, and they want her to solve their 100-year old murder mystery. Annabelle and Lily Edmonson have been waiting a long time for someone to see them so that they can tell their story of betrayal, and finally re ...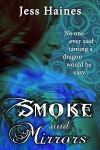 Read the book readers are comparing to Harry Potter, Throne of Glass, and Anne Bishop's Others Series!
A girl who uses her illusions to fool the world into thinking she's just like all the other magi.

...
Cassie is a first-year psychology student at Kirk University. Love is the last thing on her mind. Determined to work and play hard, she knows now isn't the time to get stuck in a relationship. But during tutorials with her gorgeous seminar lecturer, Diego Valentine, Cassie's feelings for him go p ...

He's the gridiron god with magic hands… …And fingers, and mouth, and tongue. Chance 'Gunner' Adams –- quarterback, superstar womanizer, and panty slayer extraordinaire. He wants me. He wants me bad, but I'm not about to become another notch on his girthy b ...
In this remarkable sequel to Together They Overcame, Eyal and Rosalind piece their lives together as a married couple after the tragic accident that left Rosalind fighting for her life. Struggling to find herself as she slowly recovers, Rosalind returns home with a deeper awareness of what has been ...