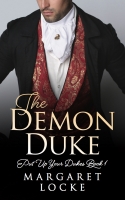 Behind every good man is a great secret. Banished to Yorkshire as a boy for faults his father failed to beat out of him, Damon Blackbourne has no use for English society and had vowed never to return to his family's estate at Thorne Hill, much less London. However, when his father and brother die in ...
What would you do if you discovered the men you were dating were fictional characters you'd created long ago? Thirty-five-year-old Catherine Schreiber has shelved love for good. Keeping her ailing bookstore afloat takes all her time, and she's perfectly fine with that. So when several men ask ...
The past is always present. Independent, spirited Amara Mattersley may live under scandal's shadow, but at least the nineteenth-century Regency society judging her is familiar. That's all about to change when she finds herself in twenty-first-century Charlottesville, Virginia—and locking ...