As the bastard child of the King of Gregorick, Tattiena holds no right to the power of the throne. Yet, as one of the last dragon riders on Limea, she is the city's first line of defense against their enemies. A heavy responsibility for a lonely young woman, her only friend and ally her dragon, Narg ...

At thirty-five, Grayson Nox is the business manager for his werewolf pack. He's good at his job. Too bad he's not as successful at finding his destined mate. He'll know her by a distinctive birth mark, but he's getting ti ...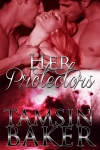 Jacky is visiting Alaska, on holiday's with her best friend Karen. She's just broken up with her horrible ex-boyfriend, and a trip over-seas to see some Polar bears and the beautiful wilderness that America offers, is exa ...