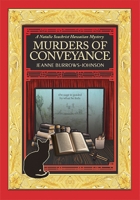 May you enjoy this third book in the Natalie Seachrist Hawaiian Mysteries First Place Winner for Fiction, Adventure-Drama in the 2019 New Mexico/Arizona Book Awards...Honolulu journalist Natalie Seachrist and her boyfriend, private investigator Keoni Hewitt are delighted to plunge into a Chinese New ...
Semi-retired journalist Natalie Seachrist, her tortoiseshell feline companion Miss Una, and her new boyfriend Keoni Hewitt (police detective turned private investigator) have moved to a Lanikai cottage with expectations of a relaxing life. But their seaside bliss evaporates when Natalie experiences ...
Semi-retired journalist Natalie Seachrist has had visions all of her life. But when her twin Nathan confirms that the body she saw in her vision draped over a vintage Mustang was his granddaughter, her world changes forever. During subsequent research for friend and investigator Keoni Hewitt, Natali ...