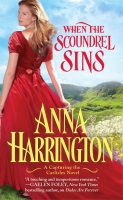 A MOST INDECENT PROPOSAL Annabelle Greene needs a husband—and quickly. To inherit the only home she's ever known, she must be married by her twenty-fifth birthday. But finding a suitor has been next to impossible after a reckless rogue named Quinton Carlisle seduced her into a scandalous midnight tr ...
A LESSON IN SEDUCTION . . .
Miranda Hodgkins has only ever wanted one thing: to marry Robert Carlisle. And she simply can't wait a moment longer. During the Carlisle family masquerade ball, Miranda boldly sneaks into his bedchamber
...