When fate makes a choice, it takes an alien warlord to shift the tides...

Mara James is angry as hell. Not only is the Union trying to make enemies out of one of the most dangerous warrior races in the galaxy, but somehow she's come face to face with their fiercest warlord. And he ...
What about a quick buck to take the scare away? This Halloween isn't going to be any better than any holiday before or after it for buck shifter Vix Frost? Why? Because he's working, that's why. Even if the latest delivery brought the pilot to Salem Massachusetts on the eve of the scariest night of ...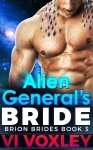 Nothing could have prepared her for the general... This is a 100 k full scifi romance novel featuring a BBW human heroine and a growly alpha male Brion warrior general. It can and should be read as a standalone and has a guaranteed HEA ending! Isolde Fenner had big dreams, but surprisingly enough, t ...