The sizzling heat doesnt always stay in summer. . .

Connie Reyes and Jonathan Pierce only discovered how different they were after a magical summer on the Jersey Shore. She was ambitious and practical; he was artistic and rebellious. Their parting was heartrending, and th ...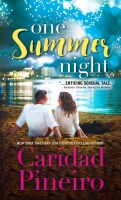 An offer that's impossible to accept… Maggie Sinclair has tried everything to save her family's business, including mortgaging their beloved beach house on the Jersey shore. But now, she's out of options. The Sinclair and Pierce families have been neighbors and enemies for almost thirty years. That ...