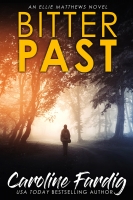 From USA Today bestselling author Caroline Fardig comes a gripping new forensic mystery series. Three years ago, criminalist Ellie Matthews was blindsided when a grisly homicide case suddenly became personal. She abandoned the danger and stress of crime scene investigation for a professorship at a p ...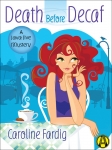 USA TODAY BESTSELLER • Caroline Fardig's captivating mystery novel takes readers behind the counter of a seemingly run-of-the-mill coffeehouse . . . where murder is brewing. After her music career crashes and burns spectacularly, Juliet Langley is forced to turn to the only other business ...

All Lizzie wants for Valentine's Day is for her fiancé NOT to be the prime suspect in a murder investigation. Is that too much to ask? Lizzie Hart is finally living the dream. She's engaged to the love of her life, Blake Morgan, and more importantly, she hasn't even given a thought to dead bod ...

Lizzie Hart's crazy love life has been leading up this moment…when she finally gets to marry Blake Morgan. But with their luck, will they make it to 'til death do us part before the wedding even starts? It's June in the small town of Liberty, and that means it's wedding season. Faster than you c ...
Meet Lizzie Hart. Small town girl...big time problems. Hindered only by her raging crush on the office hunk, wannabe sleuth Lizzie Hart spies, accuses, and gossips her way to the truth in this bestselling first book of The Lizzie Hart Mysteries Series! The sleepy town of Liberty hasn't seen murder i ...

Lizzie Hart is overjoyed that six whole months have passed without a single murder in the sleepy town of Liberty. It's also been six months since Blake Morgan heartlessly dumped her, but she's determined to get over him. She's slimmed down, ready to party, and injury-free, except for a little naggin ...