Another murder in small town Cold Creek has tensions rising. Clive Johnson, the groundskeeper at Cold Creek College, is a convenient scapegoat for a police chief. Convinced Chief Pfeiffe has it all wrong, Sheridan Hendley sets out to help prove Clive's innocence. Not everyone is pleased by her enthu ...
Hannah and Tamar are looking forward to spending Thanksgiving break with their grandparents. On the long ride to Vermont, the sisters are quick to offer assistance when a fellow passenger – a girl in her late teens – is hassled by a rough-looking young man. Grateful as she may be for the ...

It'd be the season to be jolly if only someone hadn't set the stage for murder. When a student is arrested for the crime, Professor Sheridan Hendley is cast in the role of amateur sleuth. Tensions run high, friendships are strained, and the college administration is beginning to panic. A ...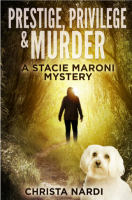 Money isn't worth killing for or is it? When her estranged husband is murdered, Stacie Maroni Noth is quickly identified as the main suspect by police and her prominent in-laws. In her quest to prove her innocence, Stacie discovers she's not the only one with a motive for murder. What lurks behind t ...

lthough Sheridan Hendley is not a sleuth, when her colleague is murdered she assists the Detective in gathering information. Unfortunately, a close friend quickly becomes the prime suspect and Sheridan is motivated to prove her innocence. As Sheridan draws connections among the people in Adam' ...
Sometimes you need to be careful what you wish for. Sheridan longs for something to keep her busy. That is, until Maddie and her new friend are framed for theft and murder. Will the truth come out before the person calling the shots takes Sheridan and Maddie out of the picture?