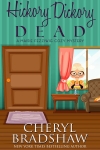 Feisty. Ballsy. Bold. ... And not your average seventy-year-old woman. After a late-night tryst with a much younger man, Maisie Fezziwig wakes to a harrowing scream outside. Curious, she removes a pistol from her dresser drawer and walks outside to investigate. The sleepy street is still and calm at ...
Something unusual is happening to Quinn Montgomery. Trapped inside her unconscious mind, the sound of her father's soothing voice seeps through, and the past twenty-four hours comes flooding back. She wakes to find herself in the hospital. Her childhood best friend Evie is dead. But not just d ...

BLACK DIAMOND DEATH: Enter the world of Sloane Monroe in Black Diamond Death... On the slopes of Park City, Utah's newest ski resort a woman is found dead. At first glance, it has all the makings of an accident. But what if she was murdered? Although skeptical, PI Sloane Monroe takes the case ...