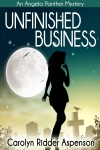 In UNFINISHED BUSINESS AN ANGELA PANTHER NOVEL, #1 AMAZON bestselling author Carolyn Ridder Aspenson introduces her now trademark blend of witty dialog and hilarious banter in the first book of her paranormal cozy mystery ...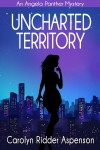 Five-Star Rated Mystery!

Grab a latté, a box of Kleenex and a clean pair of panties. Carolyn Ridder Aspenson has done it again.
—Lynn/Two Girls & a Book

Suburban housewife Angela Panther didn't want to communicate with the dead, but the universe had ...