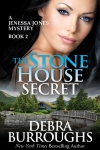 While reporter Jenessa Jones is hotly pursuing a murder case, her budding romance with the handsome police detective is heating up...until they run into outside resistance. When Jenessa's investigation ta ...
Love and Suspense, Heart-pounding romance and thrills!
7 full-length action-suspense romances from New York Times and USA Today bestselling and award-winning authors. Danger and excitement, secret agents, sexy SEALs, hot police detectives, undercover female operatives, and heat! Plus a F ...