A reporter on the rebound. An ex-cop with nothing to lose. A murder they can only solve together. Will Finch returns to the San Francisco eXpress convinced that Gianna Whitelaw was murdered. But everyone else claims that she threw herself from the Golden Gate Bridge. Who can dispute the facts? Her s ...
"You start reading Healing the Dead with a gasp and never get a proper chance to exhale." — Globe and Mail A child is shot in a game of Mob When David captures the accidental shooting death of his best friend on film, the Sykes family is torn apart by guilt, isolation and a terribl ...
Fire Eyes is a W.H. Smith First Novel Award finalist. "A dynamite Read"--Andreas Schroeder, author of The Eleventh Commandment The book reviews are in! "Fire Eyes is a taut psychological thriller with literary overtones, a very contemporary terrorist romance." -- Globe and Mail "On the whole, this t ...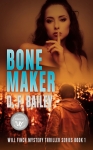 *** Bone Maker is a Whistler Independent Book Award Finalist *** A death in the wilderness. A woman mourns alone. A reporter works a single lead. Following a family tragedy that has broken his spirit, crime reporter Will Finch returns to his news desk in San Francisco eager to reboot his career and ...
When a stroll down memory lane becomes a rush for the exit. Shattered by the death of his wife, Doyle Mere returns to San Francisco, his wife's home town and the city he used to know and love. He plans to settle into Haight-Ashbury and write a memoir, believing that if he can clarify the past it wil ...
One billion dollars. Two killers. Three ways to die. A villain emerges from the collapse of the Soviet Union and threatens to destroy Finch, Eve and Sochi. And behind the scenes a more sinister menace prepares to strike them all. The encrypted files should shield the billion dollar fortune at stake, ...