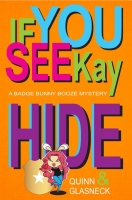 Ladies, do you need a good giggle-snort? Bobbi Jax, AKA BJ is a magnet for trouble. But this time it looks like things are turning themselves around. BJ hits the lottery when her dog, Twinkles, suddenly starts pooping glitter and jewels. It's almost like BJ has her very own golden goose. Yup, life i ...
Lexi Sobado's life does't ever follow her carefully laid plans. Spyder McGraw, Lexi's long-time family-friend and mentor, shows up in town, bringing more questions than answers. A new neighbor, Maria Rodriguez, moves into Lexi's neighborhood - their pasts dangerously linked together. And grief, as L ...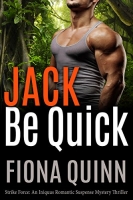 The prayer on her lips is JACK Be Quick. It's been months since ex-Navy SEAL Jack McCullen last saw his fiancée, Suz Molloy. He was on the other side of the world involved in a grueling black ops mission for Iniquus Corporation at the behest of the US government. Mission fail meant a special flight ...
Bobbi Jax, AKA BJ, reaches out to flick the cheek on the chick hiding in the bushes. Plastic. But oh so real looking. And creepy enough to interrupt her romp in nature with hot cop, Peter Harris. Creepy enough that BJ and her best friend, Kay decide to retrieve the discarded mannequin from the park ...