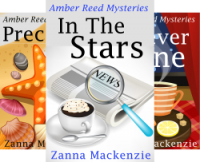 From Book 1: Sometimes one phone call is all it takes...

Amber Reed is a newspaper admin assistant tasked with making up the horoscopes. Her imaginary predictions seem as close as she'll ever get to excitement. Until a desperate phone call plunges her into the middle of a celeb ...
Lucy's life is a mess. It's official. Her childhood sweetheart ex-boyfriend just walked out on his wedding, telling everyone it's because he's still in love with Lucy - even though they broke up a long time ago! Desperate for a place to escape to while the dust dies down, Lucy gets the chance ...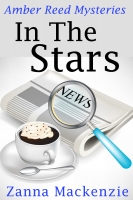 Plunged into the middle of a celebrity murder investigation, horoscope writer Amber Reed is desperate to convince the scarily handsome special agent assigned to solve the case that she can help him catch the killer. Hmm...maybe she shouldn't have wished for more excitement in her life after all!