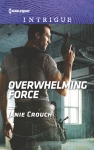 Despite an illustrious career as a top hostage negotiator, Joe Matarazzo is haunted by the past. It was a year ago that three innocent lives were lost under his watch. But Joe isn't the only one who remembers that day. When Joe's exes begin to fall victim to a violent stalker, Joe seeks the help of ...
Her brother stole from my family. For members of La Cosa Nostra, the Sicilian Mob here in The Big Easy, that's a death sentence.

It's not just about the money.
It's about the respect.

The deal is practically done, when his sister stumbles into my office, ...
At ninenteen, Andrea Gordon's life was forever changed. After proving herself instrumental in a bank hostage crisis, she became one of Omega Sector's top agents. Four years later, her skill at reading people is unrivaled—until she meets fellow profiler Brandon Han. Paired together to track a s ...