She's sweet and wholesome. And hiding something.
He's back home, resurrecting old ghosts.
One of them is going to get hurt.

Molly arrives in Sutter's Hollow out of gas and out of options. The rundown ranch seems like a perfect place to hide. Except the man who owns it seems just ...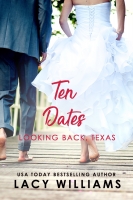 Can her online dating disasters turn into true love? Or will she lose the perfect guy in 10 Dates?

"Lacy's books are just so darn cozy and wholesome, without being cloying." WendyTheSuperLibrarian book blog

Lacy Williams is the USA Today bestselling author of the ...