I'm wrong for her in all the right ways. Everyone in the city knows who I am: Vincent Citrione, top capo of the most powerful crime family in the city. If you've got two brain cells to rub together, you're scared sh*tless of me. As for women, I given them the hardest, dirtiest f*ck ...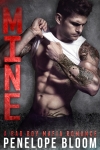 My enemies wish they had never met me, and women wish they could forget me. I'm busy carving a name for myself in the mafia underworld, and I don't have time for the women who chase after me and wanna tie me down. They can get in line for the wildest f*ck of their lives and then they can get lost. I ...
She had my baby and now she's mine. Women know I'm a bad boy. They know that they should keep their distance, but they never do. All they ever get is one night. The dirtiest, wildest, hottest night of their lives. Court appointed shrink Dr. Julia Connors shouldn't have been any dif ...