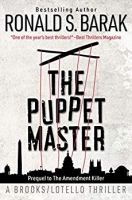 What would YOU do if they took everything you had, your family, your home, your business, your dignity, even--perhaps--your sanity? Ronald S. Barak's latest, The Puppet Master, prequel to The Amendment Killer, and the second in the Brooks/Lotello Thriller Series is a gripping story of a political sy ...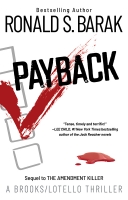 WHAT KIND OF TROUBLE COULD YOU GET INTO AT A FAMOUS WRITERS' CONFERENCE? Thriller Jubilee is a renowned week-long writers' conference held every year at the luxurious Hotel Marisol on the sun-drenched island of Punta Maya. Attracting literary luminaries and reading fans alike, this year's conference ...
"WE HAVE YOUR GRANDDAUGHTER. HERE'S WHAT YOU NEED TO DO." That's the text message Supreme Court Justice Arnold Hirschfeld receives as hearings commence in the U.S. Supreme Court to determine the fate of the 28th Amendment – enacted to criminalize abuse of power on the part of our political represent ...