The beloved series, Pam of Babylon, now in a boxed set. The first volume contains Pam of Babylon, Don't You Forget About Me, Dream Lover, Prayers for the Dying, Family Dynamics, and the bonus, First Sight.

First Sight - When Pam Met Jack

Pam of Babylon - A beautiful life at the ...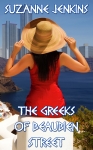 Nestled below the skyline of Detroit you'll find Greektown, a few short blocks of colorful bliss, warm people and Greek food. In spite of growing up immersed in the safety of her family and their rich culture, Jill Zannos doesn't fit in. A Detroit homicide detective, she manages to keep ...
Sometimes they must run. Sometimes they must hide, and sometimes they stand and fight back. Trying to survive. A box set of seven Women's Fiction tales filled with drama, suspense, loss, love, pain, strength and life-altering decisions that will provide hours of quality entertainment written by seve ...