Major Dante Regiment must find a way to protect Beth, as the Emperor is not the only one causing chaos in Khandarken. The Emperor has been defeated. New countries have arisen from the ashes of the old Empire. The citizens swear they will never need to fight again after that long and painful war. Bet ...

Be careful who you trust... Katy Dalton needs her money back, but Bruno has stopped answering his phone and bad things start to happen. Brett Rome is frustrated. The last thing he wants is to leave a promising career in hockey to come home and run his ailing father's trucking company. What he ...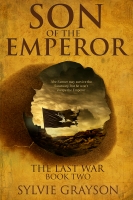 With the Emperor defeated after a seemingly endless war, the citizens pray they'll never need to fight again. But already unrest is growing in the north of Khandarken. After Julianne Adjudicator's father disappears, she seeks to escape the clutches of her vicious stepmother Zanata, who has posted a ...