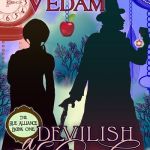 POWERFUL. IN PAIN. AND UNDER SUSPICION . . . Mired in grief, Lady Roselyn Ravenstock avoids the cloying attention of friends, servants and society's well-wishers. Until the day she bumps into a woman who reminds her of her gentle mother. Coming out of her deep-seated sorrow, Rose tentatively befrien ...
Harriet Walcott, companion of Miss Isobel Paley (from The Secret Bluestocking), is the perfect example of a spinster: past the usual age of marriage and content to spend her days with her needlework and her painting, without a hope for love. Her fondness for her family, along with her ability to fin ...
This is a fabulous set of 4 full-length medieval romance novels. Heroic Tales of Medieval Romance contains these four medieval romance novels: My Noble Knight A LADY longs to try her skills by competing in the joust. A noble KNIGHT is sworn to the traditional ways of chivalry and to uphold the rules ...
https://www.amazon.com/Second-Chance-Marquess-Book-ebook/dp/B01N80K1I3/ref=sr_1_1?ie=UTF8&qid=1489807448&sr=8-1&keywords=s ...
Miss Primrose needs to be punished. A member of the wickedly wanton Inn of the Red Chrysanthemum, where the most taboo and illicit pleasures are indulged, Miss Primrose—or Mistress Primrose, as she prefers—left Nicholas Edelton a shell of a man. Now his older brother, Spencer Edelton, th ...
She has no name. She is not even a footnote. Her tale is hidden behind the well-told fable of her husband, the man who would become Simon Peter, the first Apostle. Cast off by her family after shunning a wealthy suitor to marry a humble fisherman, her life is fraught with hardship. She endures her h ...

It's 18th century London, where an Earl loses a vast sum of money to his good friend, a Duke. To settle the debt, the Earl suggests that he marry his fourteen year old daughter to the Duke's twenty-one year old son. The marriage takes place the next morning. She is terrified, and he is furious. Call ...