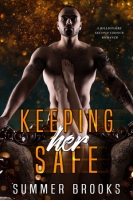 She is the one that got away, leaving me to fantasize about the curve of her hip and the taste of her lips. I have everything I could ever want, except for Grace. She is unlike any woman I've ever met—wild and free. And impossible to pin down—even for a man of my considerable resources. Now, maybe I ...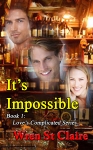 It's love at first sight for Zac, when he see's gorgeous, stormy Ben across a crowded pub. It's lust at first sight for Ben, when he see's Christie, Zac's hot little curvy blonde flatmate.
Ben is straight, Zac's gay and Christie has a boyfriend. It&r ...
Having grown up in foster care, Latasha looks forward to a stable happily-ever-after with K.C., her Jamaican boyfriend. But his band, Caribbean Climax, is flat broke. When Jonathan Lance, CEO of Third Mountain Coffee, propositions her for one paid night of ecstasy, she does it for her and K.C.'s fut ...
Her brother stole from my family. For members of La Cosa Nostra, the Sicilian Mob here in The Big Easy, that's a death sentence.

It's not just about the money.
It's about the respect.

The deal is practically done, when his sister stumbles into my office, ...
A Doms of The Cage Prequel Novel Ever wondered where your favourite Doms and subs played before The Cage opened? Delaney MacDonald is a bratty sub of the highest order who has never fully submitted to a Dom in all her years of kink. After spending months trying to create the perfect Dom, Delaney fin ...
Abbie moonlights in a sex-for-hire job. Nothing goes as expected, including intense blue-eyed surfer Mark who works out a few kinks—because he wants to leave the lifestyle. Past mistakes haunt him, but sweet Abbie shows Mark honesty is the hottest aphrodisiac.