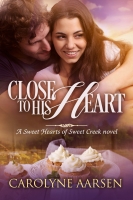 He's chasing his dreams. She's hiding from her past. Can a hometown fundraiser heal their broken hearts? Jace Scholte is determined to rise above his poverty-stricken childhood. Years after a real estate developer took him under his wing, Jace has a mission: return to his hometown of Sweet Creek and ...
Next stop: Pain and heartache, coming right up…
Ivy McLain's grand scheme of making it big? Yeah, it's going nowhere fast. Every day, her dreams of a fabulous art career are fading a little more. And just when she didn't believe things could get any worse, her parents plan their ...
A Forbidden Love When Cupid's arrow accidentally strikes the wrong cowboy, she's supposed to fix her mistake—not fall for the alluring mortal. Cami Calypso, receives her first assignment on Earth just in time for the Valentine season. As a newbie Cupid archer, her life is perfect until her arrow acc ...