ESPIONAGE TECHNOTHRILLER Cold War II has started with a vengeance. Or, as the American president calls it, Cold War 2.0, reflecting the impact technology has in the new age of espionage. The United States is now in the crosshairs of a renewed, unstoppable enemy intelligence operation. At Langley, a ...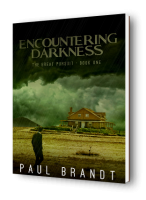 Do you enjoy Christian fantasy fiction? "Encountering Darkness," a christian fantasy and adventure novel, will take you on a thought provoking journey. In this nightmarish tale, Pete and Amy try to discover who or what to follow. As Pete and Amy hear many voices declaring "truth", which is the right ...

inkBLOT :: Young Adult Suspense. An award winning junior crime writer meets the teen-entrepeneur who owns inkBLOT, a popular quiz website. What transpires is a tangled web of crime and deception. Who's to blame? The attention hungry reporter or the website owner whose business has links to all of th ...
Nancy Naigle & Phyllis C. Johnson
What would you do if your government labelled you as a terrorist? And you didn't know why! On the run from a massive manhunt, NSA employee Holly Rae Burnette finds herself living another nightmare - being hunted by men with machine guns who want only one thing - to kill her. Drawn into the chaos whi ...
What do the defectors really want? Why do these people betray their country and friends? Why are some of those defectors lucky, while some others are not? Why don't they ever have any regrets? What are their true motives? Is it about money? No. Do they do it for fear? No. Do they sometimes wish to b ...
If a serial killer is murdering your enemies, do you stop him?
Eileen Somers is flattered by a series of anonymous letters delivered to her floral boutique. The author rambles on about the past, mentioning places and things that feel familiar to her. She's intrigued and wants to meet the secr ...