From Book 1: If Rachel stops running, she will die. Or worse.
The debut novel from thebest selling, award-winning author of Conduit
Rachel Thomas longs for normalcy, but if she stops running she could die... or worse. Chased by a past that wishes to imprison he
...
Former police officers Ellen Brazil and Brian Lynx have joined forces to start a successful missing persons investigation firm which has just been contracted to find the wife of bodybuilder Will Endersbe. Ellen discovers that a number of women with similar features and hair color have also vanished ...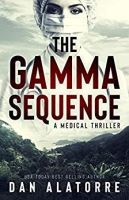 Geneticist Lanaya Kim must do what authorities haven't—tie together the "accidental" deaths of several prominent scientists around the country to show they were actually murdered. Over the past two years, geneticists have died in what appear to be accidents, but Lanaya knows otherwise. If she tells ...