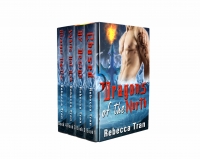 These sexy dragons find love when they least expect it and sometimes when they don't want it. Enter a fantasy where devastatingly handsome men become dragons at will. Split into four territories, their power struggles put the women they love in danger. It's the last mistake their enemy will make. A ...
Regen is a YA urban fantasy. Life is finally shaping up for Trisha. For the first time, she's with a foster family she doesn't hate. Her new school is decent, and she even has a boyfriend. Until the night she finds herself waking up in the woods covered in blood, a bullet hole in her dress. Without ...
Out of the spotlight, in the darker corners of the studio backlots, Hollywood hides a remarkable secret. Actor or actress, set designer, electrician, best boy, or grip—in la-la land, it pays not to be human. Vampires, succubae, trolls, elementals, goblins—studios hire anyone and anything that can ta ...