Newly trained and ready to rock her first assignment, Gwynn Reznick goes undercover posing as an accountant. After fending off the unwanted advances of a company executive, she stumbles on a murder scene staged to look like an accident. Then she learns another employee died in a suspicious oil well ...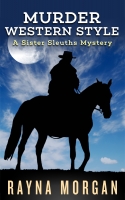 If you like smart women sleuths, murder and deception, you'll love the Sister Sleuths latest case! A day at the rodeo ends up in murder, and sister sleuths Lea and Maddy find themselves defending more than one suspect. The weapon is a pistol belonging to Maddy's close friend, Scott Miller, who ...
Gracie Andersen is up to her eyebrows in wedding details when her mother, Theresa Clark concocts an intervention for a friend who's become a hoarder. Just as Gracie's plans for a casual outdoor wedding turn into a literal pipe dream, Theresa stumbles into a mystery surrounding a stolen h ...
A hard-driving police detective, Ray Slaverson, is perplexed by two murdered lawyers plus a snake-bit activist found dead in a swamp—all within 24-hours in a Florida Gulf Coast city. In the middle of the mess, Ray's fiancée, Kate Garcia, knows far more than she should, but she has plenty of reasons ...
Bree-Ann Carver works in a satellite office, in Idaho. Her job as an intern for the New York Times is to write a blog about fictional murders. But her very first subscriber criticizes her efforts and then aggressively moves to take over her blog via his unsolicited input into her work. She knows he ...
Who knew a New Year's trip to Budapest could be so deadly? The tour must go on – even with a killer in their midst… Recent divorcée Lana Hansen needs a break. Her luck has run sour for going on a decade, ever since she got fired from her favorite job as an investigative reporter. When her fresh star ...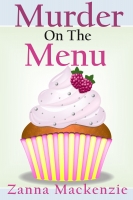 A dead celebrity chef boss. A mysterious and handsome new neighbor. A past she's desperate to forget. Lizzie's got a lot on her plate! A fun romantic mystery with all the right ingredients. Celebrity chefs, a yummy special agent and baking.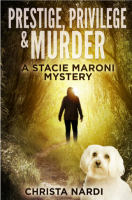 Money isn't worth killing for or is it? When her estranged husband is murdered, Stacie Maroni Noth is quickly identified as the main suspect by police and her prominent in-laws. In her quest to prove her innocence, Stacie discovers she's not the only one with a motive for murder. What lurks behind t ...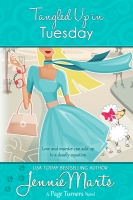 Organized accountant Zoey Allen likes her life neat and tidy. But it goes from managed to messy when a dead body ends up in her apartment on an ordinary Tuesday night. After uncovering a money-laundering scheme in a routine audit at her company, Zoey finds herself the target in a murderous plot that ...

He's running from his past, she's hoping he'll save her future ~~~ Marooned in Baja, Mexico, a Chechen arms dealer is waiting for the right diver to retrieve the deadly cargo on the bottom of the Sea of Cortez. But when the Queen of daytime drama, Leila Hunter Standiford, happens to admire a beaut ...