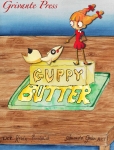 Cute for kids, a bit twisted and funny for adults! A Guppy??
But I wanted a Puppy! Guppy Butter is the darkly humorous tale of a young girl's wish for a puppy, but who ends up getting a Guppy instead.
She tries her best to meet her father's demands that if she can keep a fish aliv ...