What happened to Amy? Dana Lawrence doesn't imagine when she buys the quaint Victorian house in the remote mountains of Colorado that her life will soon be in danger. She has heard the legend of Lelia Glenn and how she vanished in the 1800's, but no one told her about the more recent disappearance o ...
On a train to Rawlins, Wyoming, Jace Keeler plays poker with four strangers and a mysterious woman, Deliah Cade. Mid-game, train robbers strike. When Jace chases after bandit, Willie Starks, who is fleeing with the payroll money, lawmen mistake him for one of the outlaws. He rides off wounded, is re ...
loretta Jackson and Vickie Britton
At times funny, at times frightening--a fast-paced thriller... When Sheriff Jeff McQuede's friend, Barry Dawson, tricks him into attending a Bigfoot convention at the small town of Trails' End, he finds the adventure is only beginning. He is soon invited by the head of the research team, Dr. Adam Ku ...
Loretta Jackson and Vickie Britton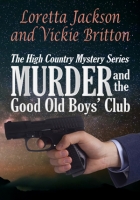 Threatened victim, waiting grave…Sheriff McQuede is called to the cemetery by Ben Ward, a member of Durmont's Good Old Boys' Club. Ward's tombstone, where he plans someday to be buried with his first wife, is vandalized. A menacing date of death, fast approaching, has been drilled into the stone, an ...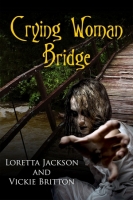 While returning from Professor Dawson's lecture on haunted places, the last thing Sheriff Jeff McQuede and Dawson expect to encounter is a terrified woman clinging to the railing of Mirabella's Bridge, crying for her lost baby. It looks as if Rae Harris has thrown the infant over the bridge in a fit ...
Vickie Britton & Loretta Jackson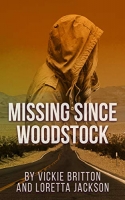 Sixteen year old Lisa slips away from home to go to Woodstock and does not return. She leaves her thirteen year old sister, Eve, to cover for her. A drifter, who calls himself Spirit, has persuaded Lisa to go with him to the rock festival. Their widowed mother blames Eve for hiding the truth from he ...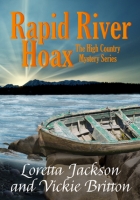 After McQuede is jilted at the altar by his long-time girlfriend, Dawson convinces him that a relaxing river rafting trip is just what he needs to get over his heartache. Unknown to Dawson, McQuede has also come along to investigate the disappearance of a young man who has recently vanished from the ...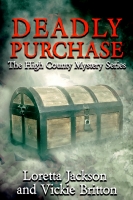 Buyer beware. To create excitement, Ruger, a shady dealer at the annual rendezvous flea market, puts up for auction a locked Civil War trunk with contents to be sold sight unseen! That night, the highest bidder, Zeke Jones, is found stabbed to death beside the trunk. Sheriff Jeff McQuede believes Jo ...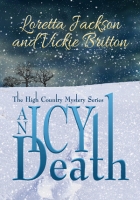 In the heart of a raging blizzard Sheriff Jeff McQuede discovers a woman frozen to death in her car. At first he believes her death to be an unfortunate accident--until he finds clues that point to cold-blooded murder. Margaret's husband, Arthur, left her in the stalled vehicle to brave the storm an ...