The first ambush of adulthood happens in high school. It happens when you realize your future belongs to you. Rory knew instantly what he had to do, it took Victoria a little longer. Together they believe they can navigate their own best path. Rory drops out of the band and basketball programs to pu ...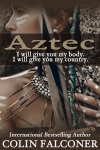 'His work takes the reader through a never-ending labyrinth of twists and turns. Get this book. It is a magnificent piece of work!'
- History and Women

History tells us that Cortes conquered the millions of the Aztec nation with an army of just 500 men – but ...
Atlas Titan isn't your typical billionaire heir. He defied the expectations of his tycoon father and well-heeled, affluent family by becoming a Navy SEAL and later a clandestine operative for the darkest government agencies. He thought he'd left that world behind for a Bay Area start-up with his bro ...